In recent interviews VP hopeful, Paul Ryan, has mentioned that his favorite band is Rage Against the Machine.  Now, if you don't know anything about RAtM here is a quick guide for dummies:
They are bad ass musicians
They hate government
That IS RAtM!  It is no surprise that Paul Ryan would love Rage, any red-blooded American who likes to throw on some headphones and play some intense air guitar HAS to love Rage – simple math.  The intense guitar riffs of Tom Morello and the unique vocals of Zack de la Rocha are everything ROCK represents.  That is why Ryan loves Rage, and that is why I love Rage.
ENTER THE PLOT TWIST>>>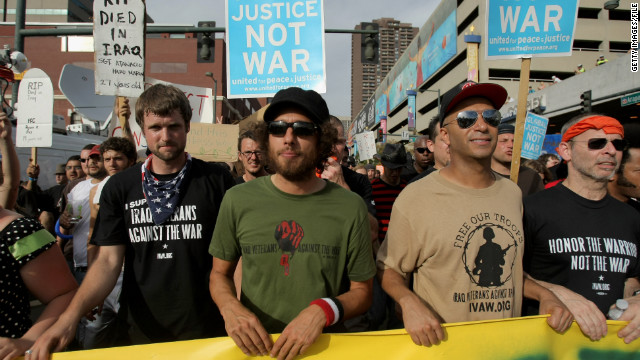 Rage's lyrics are directed 100%, seriously 100%, to politics.  They HATE Democrats, multiply that hate by 100 and you get how much they hate Republicans.  With songs like "FU** the Police", "Killing in the Name of", and "Take the Power Back" Rage's goal is clear, change the world through music.
Thus the struggle: the music is so damn good, but the lyrics are completely against your political beliefs.  I say, "who cares?"  I will support Rage for it's artistic ability, and forgive them for their opinions – Ryan agrees.  Rage's main-man Tom Morello, on the other had, doesn't see things the same way.  Morello wrote in the Rolling Stone:
Don't mistake me, I clearly see that Ryan has a whole lotta "rage" in him: A rage against women, a rage against immigrants, a rage against workers, a rage against gays, a rage against the poor, a rage against the environment. Basically the only thing he's not raging against is the privileged elite he's groveling in front of for campaign contributions.

Read more: http://www.rollingstone.com/music/news/tom-morello-paul-ryan-is-the-embodiment-of-the-machine-our-music-rages-against-20120816#ixzz23q6VuipC
In my opinion, Morello should just be flattered that people like Ryan and me love his music.  You can't always agree with someone 100% on everything, Morello would be sorely disappointed to learn the percentage of his fans who actually agree with all of his political beliefs.  OH, and by the way, Ryan always looks super pissed at women and poor people.  Look at that angry smile he is always sporting.
So this is my short letter to Tom:
Tom, I love your music and I love your passion.  You are a pioneer when it comes to the guitar, and for that I thank you.  Your music has fueled hundreds of head-banging sessions in my car – again, thank you.  Your political opinions are different than mine, but I still love you.  I would hope that a difference in political opinions wouldn't keep us from being kind to each other, and at the very least keep you from slandering my name.  I think when people compliment your music you should just be flattered and say, thank you.  No one likes a whining musician, the cliche is getting old.  I will continue to rock out to your music even though you said that it wasn't good music to jam out to as Young Republicans.  One love, and YES, "we gotta take the power back!"

Sincerely, your fan,

Reiley Hooper